Events in 2019
Karaoke Night with LHF (March 30, 2019)
LHF hosted a karaoke night to raise funds for the Luang Prabang Summer Camp Program. We are grateful for Vatsana Ross for offering to host it at her house. It was a blast. We sang our hearts out for a great cause.
Lao New Year Performances (April 2019)
Each year, LHF students are invited by the three local Lao Buddhist Temples and the Lao Embassy to perform in celebration of Lao New Year. Each year, the students always have a blast. This year LHF decided to do Lao bon chon chicken at our food booth. It was a hit!! We sold out in a few hours.
3rd Annual Lao Art and Culture Summer Camp, Luang Prabang, Laos (June 26-July 7, 2019)
In the third year of the program, LHF continued to hire more teachers to support the large numbers of students. It was great to see many returning students as the Children Cultural Center has a high rate of turn overs. Each year, we start over again. With returning students, the older and more experienced students become teacher's helper. They help teach beginner students, allowing for even smaller groups and more intense teaching. This year we were able to take more students to the waterfall as our last culmination
8th Annual Lao Art and Summer Camp, Virginia (July 20-27, 2019)
Another year to remember for LHF summer camp. Since we tackled the Monkey Dance for the boys last summer, this year we tackled Nang Keo. We were very fortunate to have Koo Lily Thammachareun as our dance teacher this summer. She danced in the royal palace as was the lead dancer for Nang Keo. She danced for 9 years with the dance troupe. This dance used to be reserve only for the royal court and their special guests. What a treat it was for our advanced dancers and musician who were pushed to their limits with this dance and song. Thank you Koo Lily for making this dance accessible to all of the LHF students across the country and thank you Koo Noh for notating the songs (yes plural- this dance use a combination of 5 different songs). The kids learned many amazing things from our volunteers: making sesame balls, learning how to make circuits, creating 3D printing, learning about UXOs in Laos, and learning how to make organic body butter.
LHF Launches a Pilot Programs in Rochester, NY(August 16-18, 2019)
Another pilot program was launched this summer. LHF collaborated with the local Lao community to launch the pilot program in Rochester, NY. The three day pilot program was held at the local temple. LHF provided with teachers and music as well as loaned instruments.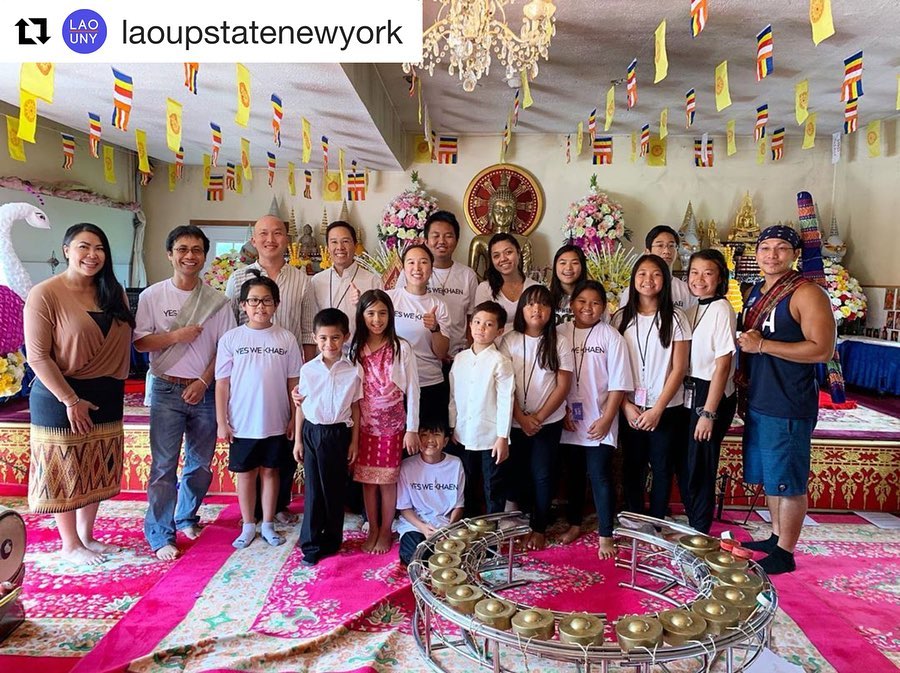 Annual Gala: The Sounds of Laos: Folkloric Music from South to North (September 28, 2019)
The theme for this year is the Sounds of Laos: Folkloric Music from South to North. LHF took our guests on a musicaly journey from South to North with khaen master, Ajarn Bounseung Synanonh and folkloric singer or mo lum, Khamta Mounisay. LHF also recieved a $3,000 donation from Sticky Rice. Chef Kevin entered and won a cooking contest and donated the proceeds to LHF. Thank you Sticky Rice!!
Dragon Boat Race (September 2019)
The iron ladies of LHF signed up for another year of dragon boat racing. With an all women's team, we were excited to join in the fun. There was a great showing of teams. Even though LHF did not place, we had a lot of fun competing and cheering on the rest of the teams.